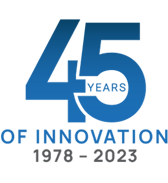 In this year of our 45th anniversary, now is an ideal time to reflect on how commitment to continuous improvement, teamwork, and partnerships with customers like you have allowed us to reach this milestone.
First, and most importantly, working closely with our customers to give them The Perfect Weld shows our strong focus on continuous improvement.
A commitment to continuous improvement is at the heart of what we do every day in our certified welding, certified brazing, and precision manufacturing operations for customers in the aerospace, defense, energy, medical, and automotive markets. It is also the core of our mission statement, which expresses our commitment to providing the highest level of quality in dealing with customers and suppliers.
Second, with everyone on our team rowing in the same direction, striving to exceed customers' requirements and expectations time after time, we have developed a work ethic that keeps Advance Welding a leader in the welding and metal fabrication industry. Being in business for more than four decades has allowed us to beat the odds and build lasting partnerships with our customers and employees.
Based on what I've seen at companies in a variety of industries, I can tell you that our longevity is due to a work ethic that is second to none. Our outstanding team sets us apart from competitors and includes two members who have nearly 40 years of industry experience and a number of others who have 20+ and 10+ years of experience they apply to help us provide services that are cost-effective and delivered on time.
Third, our customer partnerships are based on honesty, trust, mutual benefit, and caring as deeply about our customers as people as we do about their success in business.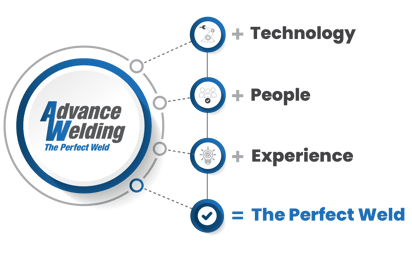 In a similar way, our solid ties with suppliers result from trust and mutual benefit. Because we have been in business for a long time, our suppliers provide us with outstanding service that allows us to do the same thing with customers like you.
If you asked me to describe the formula we have developed to overcome the many challenges we have faced and remain a healthy business, I would say that it is a combination of investing in technology, people, and experience to create The Perfect Weld. If we had not devoted sufficient resources to any one of those three elements, we would be a much different company than we are today.
Commitment to Quality
Our investment in the most modern equipment and tools, and in the most highly trained and skilled welders you'll find anywhere, feeds into our philosophy that Quality is more than a buzzword. Instead, it's the continual pursuit of providing customers with the best possible service in producing quality welds. As we like to say, "Quality workmanship is our product." We put our focus on the ability of the welds we produce to withstand the environments where our customers use the parts and components.

Our commitment to quality is exemplified by our recent acquisition of KTI, Inc. which has allowed us to add electron beam (Nadcap and FAA certified) welding and laser beam welding to our wide range of capabilities. Through the awarding of a Massachusetts Manufacturing Accelerate Program grant of $250,000 and partnering with the Western MA Economic Development Council, we were able to purchase electron beam welding and laser beam weld chambers, power sources, pumps, and support equipment to become one of the leading U.S. providers of fusion welding services
Commitment to Community
To make sure there are enough skilled professionals to keep our business on an upward path, and to help enhance the quality of life in the Springfield, MA area where everyone on our team lives, works, and plays, we have taken it upon ourselves to help educate young people about the many opportunities that careers in manufacturing offer.

Specifically, we have established mentoring relationships with the University of Hartford, Western New England University, and several technical schools in the area to help students apply their classroom experiences to the real world. Some students have gone to work for us, and many have joined other companies in the area.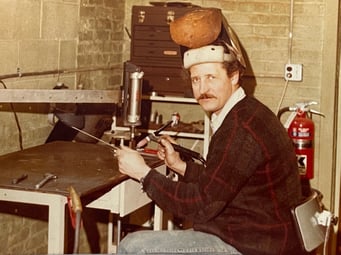 I take tremendous pride in being a part of a company that has been in business for 45 years. Outstanding team members, loyal customers, and strategic partners have contributed to our good fortune. Having the privilege of building upon the foundation built by my parents, Kaz and Carol, is a privilege that I value each day.

Looking ahead, I foresee us continuing to be early adopters of technology while maintaining our focus on attracting and keeping the best people in our industry and on the well-being and success of our customers and suppliers, and of our local community.

On behalf of the Advance Welding team, we appreciate the trust you have shown in our ability to help you achieve The Perfect Weld and we look forward to continuing our progress together.
To share your thoughts about Advance Welding on our 45th anniversary, we'd like to hear from you.