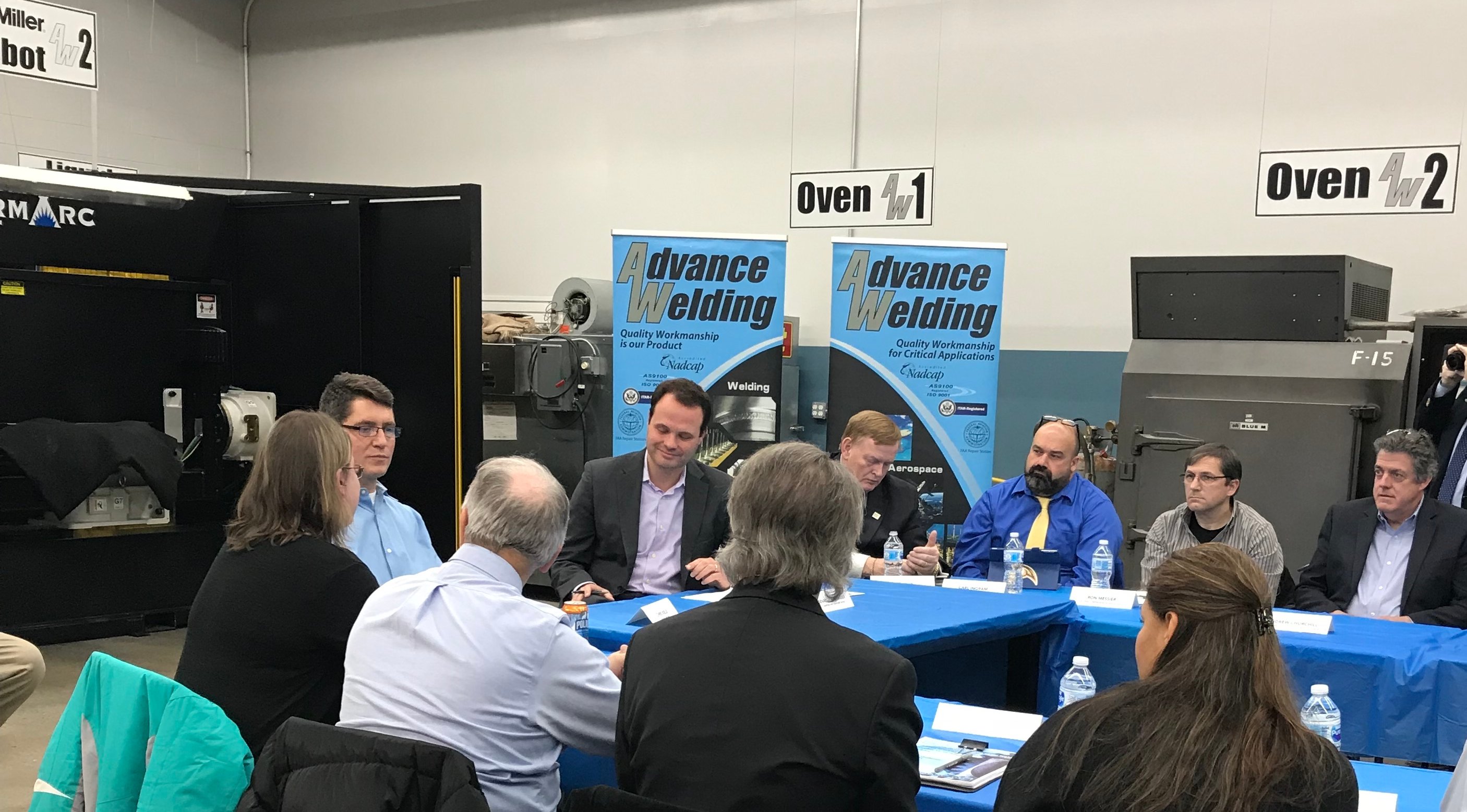 SPRINGFIELD — Senator Eric P. Lesser, along with local leaders in manufacturing and vocational education, held a roundtable discussion on the state of manufacturing in Western Mass. on Tuesday at Advance Welding.
The discussion was hosted at Springfield manufacturing company Advance Welding by its president, Chris Kielb, with the goal of bringing together manufacturers, educators and policymakers in an effort to better understand current trends and issues in the industry and how these groups can work together going forward.
"I was glad for the opportunity to hear directly from our local manufacturing leaders about the present challenges in the manufacturing industry, as well as the opportunities we can work together on to ensure our region continues to develop a strong and competitive manufacturing sector," said Sen. Lesser, who serves as the Senate Chairman of the Legislature's Manufacturing Caucus.
"Manufacturing is alive and well in Massachusetts and throughout the country. Our shortage of a skilled workforce is crippling all of us involved in the many facets of manufacturing including precision machining, welding and fabrication, plastics industry, just to name a few. Our products that we manufacture are only as good as the employees we have and the employees we have are only as good as the education and training they receive. Investing in the future of our children in technical schools and exposing them to things other than college is something that needs to be changed across the country," said Chris Kielb, President of Advance Welding.
"It is extremely important for the Advanced Manufacturers of Western Mass. to be able to speak to our legislators so they can understand our challenges, needs and the policies that shape and drive our industry. This was an amazing opportunity to share those with Senator Lesser and I look forward to continuing the discussion in 2019," said Kristin Carlson, President of Peerless Precision, Inc., and the Western Massachusetts Chapter of the National Tooling and Machining Association, who co-hosted the discussion.
Sen. Lesser hopes to convene similar meetings regularly during the upcoming legislative session.
Representatives from Chicopee Comprehensive High School, the Lower Pioneer Valley Educational Collaborative, Springfield Technical Community College, Western New England University's School of Engineering and Holyoke Community College were present.
Each of the following industry groups and companies also had representatives present: Associated Industries of Massachusetts, Rock Valley Tool Westside Finishing, Meridian Industrial Group, Universal Plastics, Meredith Springfield, Hoppe Technologies and The duMont Company.
MassHire, Franklin-Hampshire and MassHire, Springfield were also represented.