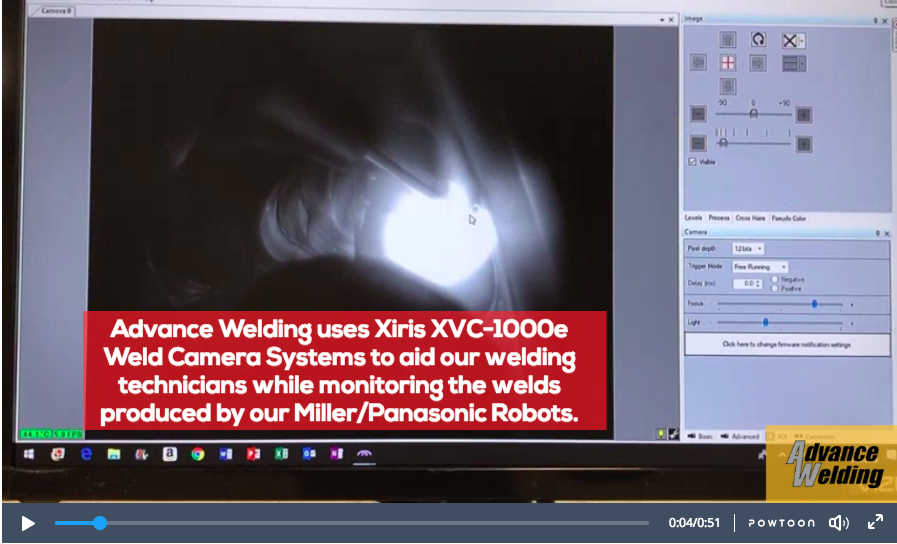 In the highly competitive aerospace welding industry, companies need to continually advance in the state of the art in order to thrive. As a long-time supplier of mil-spec and aerospace welding services and solutions, Advance Welding has consistently pushed to improve productivity, quality and safety.
Continuing this investment in advancing aerospace welding processes and capabilities, we recently acquired (2) Xiris XVC-1000e Weld Camera Systems to aid our welding technicians while monitoring the welds produced by our Miller/Panasonic Robots.
The Xiris XVC-1000e cameras are ruggedized optical inspection systems that provide high-contrast, clear pictures of the weld tip, weld pool and background material. The cameras enable a wide range of optical configurations in order to monitor and manage aerospace welding processes from small, precision assemblies to very large weldments.
Higher quality images of the robotic welding process give our technicians better information that improves setup and fine tuning of the welding parameters which reduces overall setup times. Our aerospace welding technicians now have the ability to observe and record essential details of the welding process while it's happening. They can monitor degradation of the welding tips, misalignment of seams, seam gap size, porosity, undercut, wire feed, gas interruptions and other defects.
By picking up defects as they occur, rather than waiting until an inspection step, technicians can make quick adjustments to the process in real time. This significantly reduces the chances of producing scrap and having to do rework. With the Xiris optical weld inspection system one operator can manage all operations from one control panel.
Technicians are now alerted to maintenance needs during automated processes. Automated runs only need to be shut down for adjustments when needed for items like dirty weld tips or lack of shield gas.
While productivity is increased and quality is improved through reduced human error, remote monitoring of the weld process improves safety for our weld technicians. Weld processes can now be recorded, enabling us to improve and ensure quality control.
The Xiris system includes software for control of the camera and processing of the images, enabling weld-specific measurements to be made remotely.
Real time weld monitoring helps Advance Welding to be more competitive vs. other mil-spec or aerospace welding suppliers by increasing productivity, quality and safety.