The distance tube assembly pictured here is one example of the many projects we do for clients in the ground-based turbine and power generation industry. Our many industry certifications, metallurgic expertise, and electron beam welding capabilities allow us to create precise welds with minimal distortion and stress on the workpiece.
To form the component, we assembled the flanges onto both ends of the distance piece and executed a full circumferential weld in accordance with the customer drawing and the procedures set forth in P8TF5 CL-B and S312 standards. Featuring dimensions of 70" in length x 22" in diameter and constructed from AMS 6417, we used a low-heat input electron beam welding process to avoid any fracturing of this crack-sensitive material. Additional operations involved demagnetizing the workpiece and a stress-relieving heat treatment. Quality assurance included visual inspections, which we also conducted in accordance with G.E.'s P8TF5 standard.
Our tight focus on precision, in combination with our engineering, metallurgy, quality assurance, and in-house heat treating capabilities, allowed us to uphold the high level of quality for this critical workpiece and turn it around in a timely and cost-effective manner.
For more information on our capabilities or if you have a project that you'd like to quote, fill out the form to the right, give us a call at (413) 734-4544, or email us at info@theperfectweld.com!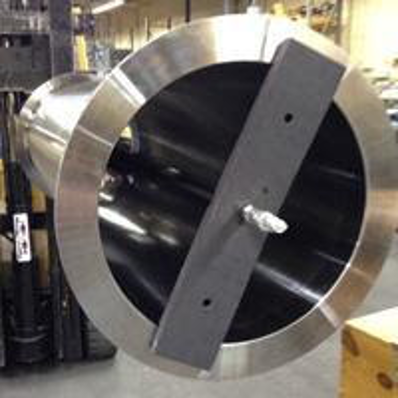 Electron Beam Welding for Power Generation Industry
Distance Tube Assembly Project Highlights
Project Name: Distance Tube Assembly
Project Description:
Ground-Based Turbine and Power Generation application.
Capabilities Applied/Processes:
Primary:
Assembly
Clean
Demagnetize Part
Electron Beam Welding
Secondary:
Heat Treatment
Equipment Used to Manufacture Part:
Hamilton Standard SW-5
Heat Treatment Furnace
Overall Part Dimensions:
70" long x 22" diameter
Material Used:
AMS 6417
Industry for Use:
GBT & Power Generation
In-Process Testing/Inspection Performed:
Visual Inspection to P8TF5
Delivery/Turnaround Time:
One week T.A.T.
Standards Met:
P8TF5 CL-B and S312