An oil and gas client in New York commonly asks us to apply our electron beam welding capabilities to steam turbine diaphragms.
Following customer specifications, the part, shown photographed below, was electron beam welded using a custom rotary fixture. The part consisted of low carbon/stainless steel materials and had an ultimate height of 4.5" and an outside diameter of 73". The welding requirements included a weld penetration depth of .900" (partial) from each side, at diameters of 44" and 67".
Upon completion, the part was shipped to the customer in New York and installed in a turbine being refurbished. The expedited delivery resulted in minimal system downtime for the utility company.
For more information on our capabilities or if you have a project that you'd like to quote, fill out the form to the right, give us a call at (413) 734-4544, or email us at info@theperfectweld.com!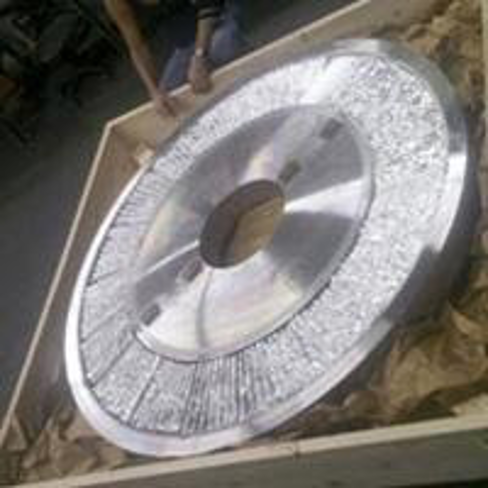 Electron Beam Welded Diaphragm for Steam Turbine in the Utility Industry
Custom Electron Beam Welding of Steel Diaphragm Project Highlights:
Product Name: Steam Turbine Diaphragm
Product Description: This steam turbine diaphragm is used in a power generation application.
Capabilities Applied/Processes:
Electron Beam Welding
Weld Ring to Housing Using Custom Rotary Fixture
Overall Dimensions:
Part Dimensions:
Height: 4.5"
Diameter: 73"
Weld Dimensions:
Joint Thickness: 4.5"
Weld Penetration Depth: .900" (Partial) From Each Side 2 Places
Weld Diameter: Two Places 44" & 67"
Material Used:
Low Carbon Steel to Stainless Steel
Industry for Use:
Power Generation/Utility Industry
Quantity:
2 to 5
Delivery Location:
New York State
Standards Met:
Customer specifications and drawings