A client of ours in the Aerospace/Aviation industry recently contracted us to provide electron beam welding, heat treatment, and inspection services for the radial drive shaft assembly highlighted here. We are certified to G.E. P8TF1 CL-A requirements and are uniquely capable of completing this project with a high level of integrity.
Constructed from AMS 6265 aircraft steel, the parts featured dimensions of 1.0" in diameter x 10" in length. Operations consisted of press-fitting a ring onto the shaft and executing two partial circumferential electron beam welds while maintaining very precise positioning. These parts also had a very delicate coating, so we needed to handle them very skillfully in order to keep them free from fingerprints or any other type of marring or damage. Post-weld, we heat treated the parts for stress relief. One part from the lot of 200 was then cut, etched, and sampled to inspect weld quality to validate that we met the very strict tolerances.
Our ability to maintain precise control over weld depth and penetration, in combination with our extensive in-house inspection facilities and heat-treating capabilities allowed us to complete this project according to rigorous quality standards. The current production remains at approximately 200 units per order.
For more information on our capabilities or if you have a project that you'd like to quote, fill out the form to the right, give us a call at (413) 734-4544, or email us at info@theperfectweld.com!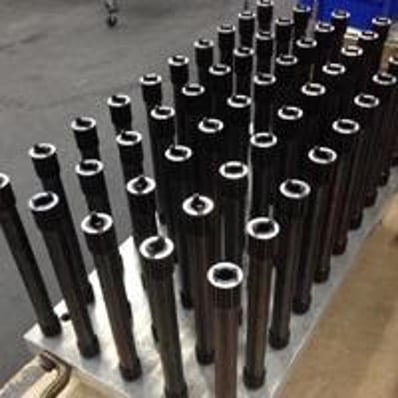 Electron Beam Welding Aerospace / Aviation Application
Radial Drive Shaft Assembly Project Highlights
Project Name: Radial Drive Shaft Assembly
Project Description:
Our machine shop press-fits a ring onto a shaft and welds according to blueprints and G.E. P8TF1 CL-A requirements. The part is then heat-treated for stress relief annealing. All parts are carefully inspected to strict tolerances.
Capabilities Applied/Processes:
Primary:
Two Partial Circumferential Electron Beam Welds
Secondary:
Heat Treatment
Inspection
Overall Part Dimensions:
1" diameter x 10" long
Material Used:
AMS 6265
Industry for Use:
Aerospace/Aviation
In-Process Testing/Inspection Performed:
A part from each lot is cut, etched, and sampled to guarantee all inspection and penetration requirements. Post-Weld inspection to P8TF1 CL-A.
Volume:
Approximately 200 per lot
Standards Met:
Customer Blueprints and G.E. P8TF1 CL-A