When an FAA customer asked us to repair a bearing seal support with only two days' notice, we welcomed the opportunity to prove its dedication to satisfying their expectations.
Following customer specifications and PWA 16-2, we utilized a purpose-built fixture to position the part under the beam. The repair consisted of welding AMS 5613 (410 stainless steel). We achieved the requisite weld dimensions of 6.4" in diameter, a .070" joint thickness, and a weld penetration depth of .070" (100%). Dimensional tolerances achieved were ±.0005".
After stress relieving at 1050 degrees Fahrenheit for a specified cycle, the bearing seal supports were ready to be returned to our aerospace client. Another perfect welding job performed by one of the country's finest welding outfits.
For more information on our capabilities or if you have a project that you'd like to quote, fill out the form to the right, give us a call at (413) 734-4544, or email us at info@theperfectweld.com!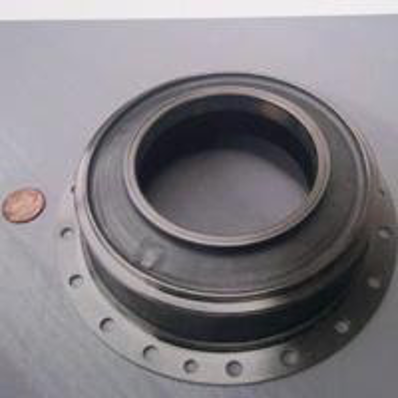 An Example of Electron Beam Welding for the Aerospace Industry
Custom Electron Beam Welding of Stainless Steel Bearing Seal Support Project Highlights
Product Name: Bearing Seal Support
Product Description:
This bearing seal support is used within a bearing seal application. We Electron Beam welded the seal Ring Holder to Support.
Capabilities Applied/Processes:
Electron Beam Welding
Special Purpose Rotary Fixture Utilized
Secondary Operations:
Stress Relieving

In Air @ 1050 °F
For a 4 Hour Cycle
Overall Dimensions:
Part Dimensions:
Height: 3.25"
Diameter: 10.75"
Weld Dimensions:
Weld Diameter: 6.4"
Joint Thickness: .070"
Weld Penetration Depth: .070" (100%)
Tolerance:
±.0005"
Material Used:
AMS 5613 410 Stainless Steel
Industry for Use:
Aerospace/Aviation
Turn Around Time:
2 Days
Standards Met:
Customer supplied specifications Weld Specification PWA 16-2