When working in the aerospace industry where precision is critical, you and your employees must understand the basics of measuring instruments. Whether you are manufacturing small or large aerospace components, there's a tool for every job and it is important to always use the right tool for the right job. When it comes to hand measuring aerospace parts there is a plethora of tool measuring options, but each are used for their own niche measurement. These aerospace measuring instruments are used throughout many aerospace processes such as; Manufacturing, Quality Control/Testing, Prototyping, Research and Development, Fabricating, Machining and Welding.
Below are the Most Commonly Used Aerospace Measuring Instruments
Micrometer: The Micrometer is one of the most fundamental measuring tools in the aerospace engineering field. They are often used to check widths of small parts as well as being used to obtain the lengths of small parts too. The main perk of a micrometer is its ability to take accurate readings to extremely small measurements with a standard accuracy up to the 1 thousandth of an inch. Micrometers can also fall into a myriad of subtypes of micrometers such as Blade micrometers which use thin blade-like prongs in order to take measurements.These are useful for measuring dimensions of grooves such as for o-rings. Limit micrometers feature two measuring points, the first is often used to set a loose tolerance which should be passed through by the part then an exact measurement where the part stops. Vernier Ball Micrometers feature a perpendicular set of prongs, one of which is a sphere which are used to check the widths of walls inside holes or tubes, and digital micrometers which display the measurement on a screen on the side of the part which provides an accurate reading without the need for workers to physically find the measurement using a vernier scale.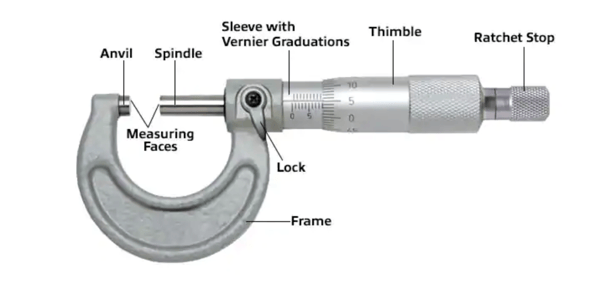 Aerospace Measuring Instrument - Micrometer
(source: www.mscdirect.com)
Gauges: Gauges are generally used to find measurements and individual types of gauges can be used to find things like holes, angles, gaps, and multiple other interesting dimensions. Some important forms of gauges are bore gauges, calipers, and dial indicators. As well as things like thermometers, feeler gauges, and wire gauges. All are used in aerospace measuring.
Bore Gauge- Bore Gauges measure the size of holes and do this by inserting metal probes of various sizes into the hole until one fits snuggly which show you the holes' diameter.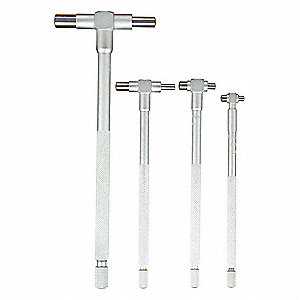 Aerospace Measuring Instrument - Bore Gauge
(Source: www.Granger.com)
Caliper- Calipers generally fall into either one of two types, interior or exterior. Interior calipers are used by inserting a pair of metal prongs into the part which are then slowly expanded until they touch the interior walls of the part which gives an accurate measurement of the interior of the part. Exterior calipers follow the same process but the prongs are placed outside of the part and are closed down onto the exterior walls in order to accurately measure the exterior size of the part.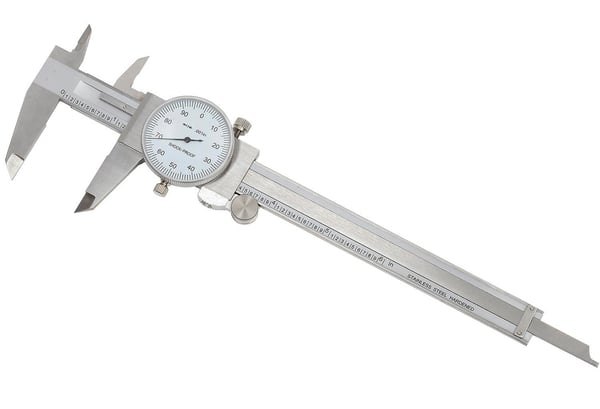 Aerospace Measuring Instrument - Calipers
(Source: www.GlobalIndustrial.com)
Dial Indicator- Dial indicator is the name generally given to instruments which have large circular faces that give measurements by reading the face of the device. Dial indicators are used on lathes to confirm part roundness or if a shaft is bent the 'runout' of the shaft as a result of the bend. It's also used to confirm concentricity of different diameters. Dial indicators are also used on surface plates to measure flatness or parallel / out of parallel of flat surfaces.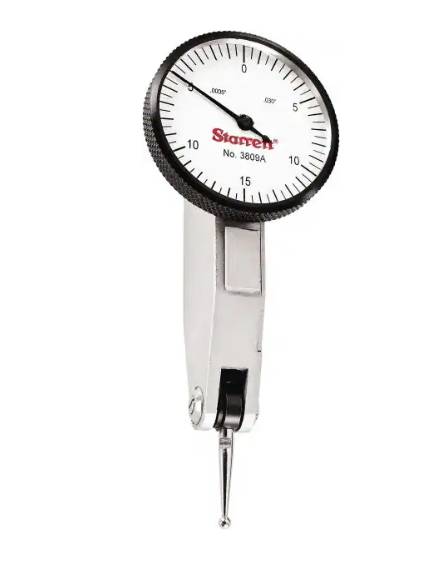 Aerospace Measuring Instrument - Dial Indicator
(Source: www.Starrett.com)
Thermometer- Thermometers are used to measure the temperature of a given area or object. Often times these are found on large machinery where the device may become extremely hot. It is important to monitor these devices as if they are left alone, they may overheat which may cause the machine to break or become a safety hazard.
Aerospace Measuring Instrument - Thermometer
(Source: www.AutomationDirect.com)
Feeler Gauge- Feeler Gauges are often used to measure gaps and clearances between or inside of aerospace parts. They consist of many small flat plates of varying widths which are inserted into gaps in order to find the width of the gap.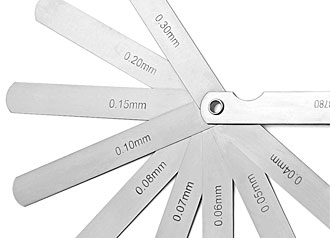 Aerospace Measuring Instrument - Thermometer
(Source: www.Fine-Tools.com)
Wire Gauge- Wire Gauges are used to find the diameter of wires, the diameter of wires is important because it determines the amount of current the wire can carry. Wire Gauges consist of a wheel shaped tool with many notches taken out of it of varying sizes. The wire is inserted into each of these notches until one is found that matches the diameter of the wire.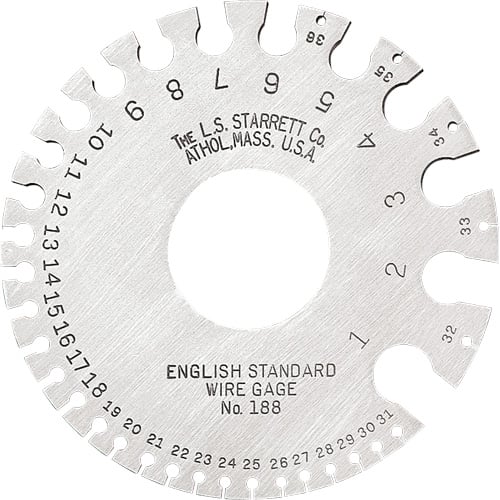 Aerospace Measuring Instrument - Wire Gage
(Source: www.SCNIndustrial.com)
Center Gauge- Center Gauges are usually used to find angles when grinding a part. This is done by using a flat metal instrument which has a series of cuts taken out of it. From there, the Center Gauge is applied to the angle of the grind out area until a matching angle is found.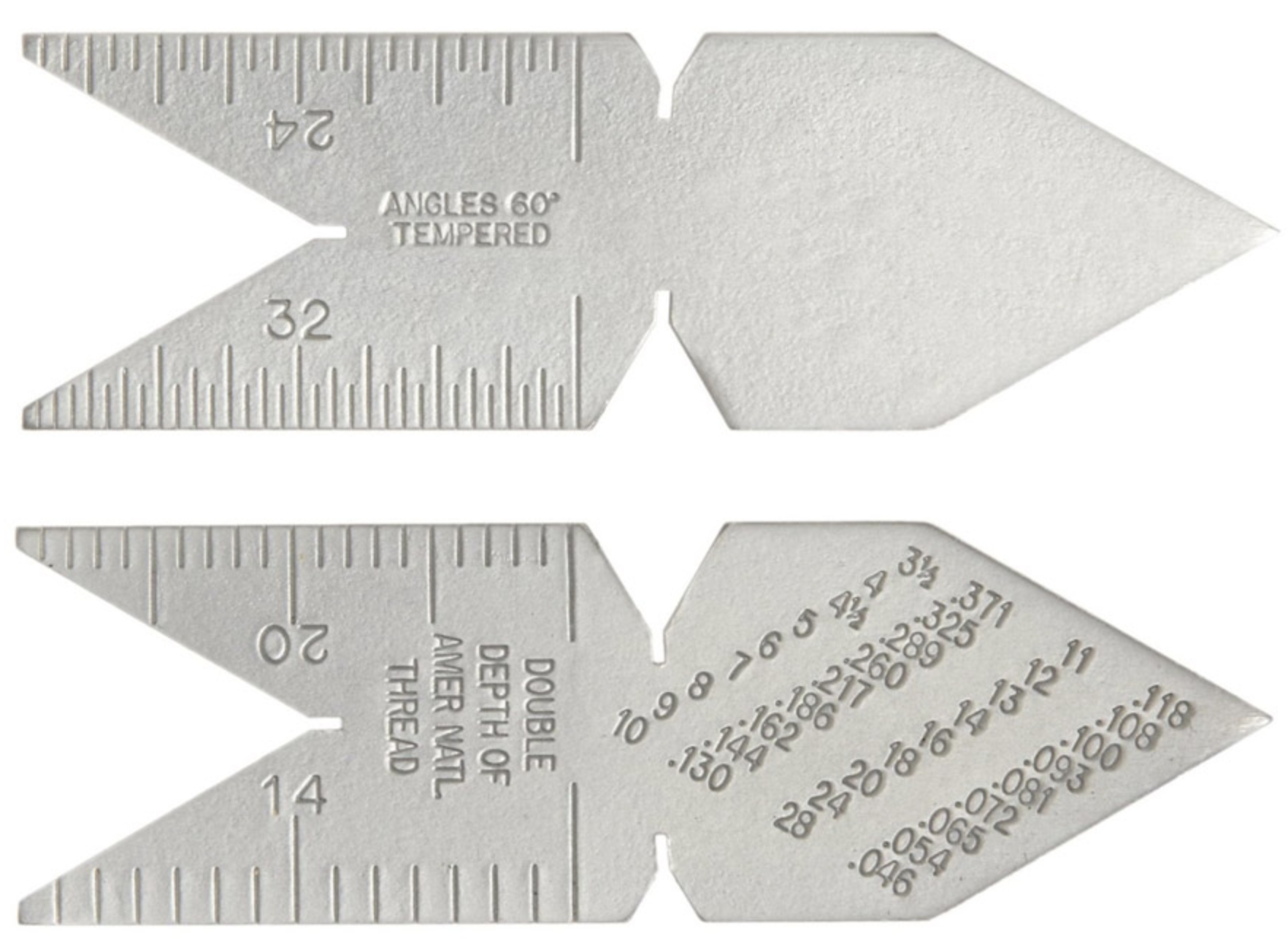 Aerospace Measuring Instrument - Wire Gage
(Source: www.Sturdy-Tools.com)
Gauge Blocks- Gauge Blocks are often used in the calibration of other measuring tools. This is because Gauge Blocks are blocks cut to very specific and exact lengths and can be used as reference points when setting up other measuring equipment. Gauge blocks are also sometimes used to measure keyway widths.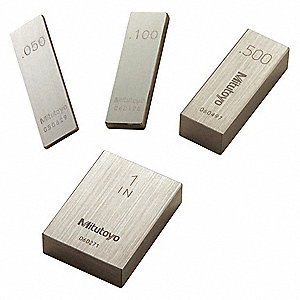 Aerospace Measuring Instrument - Gauge Block
(Source: www.Grainger.com)
Gauge Pins- Gauge Pins serve the same purpose as gauge blocks but are used to calibrate equipment which measures diameters due to the pins having exact cylindrical dimensions.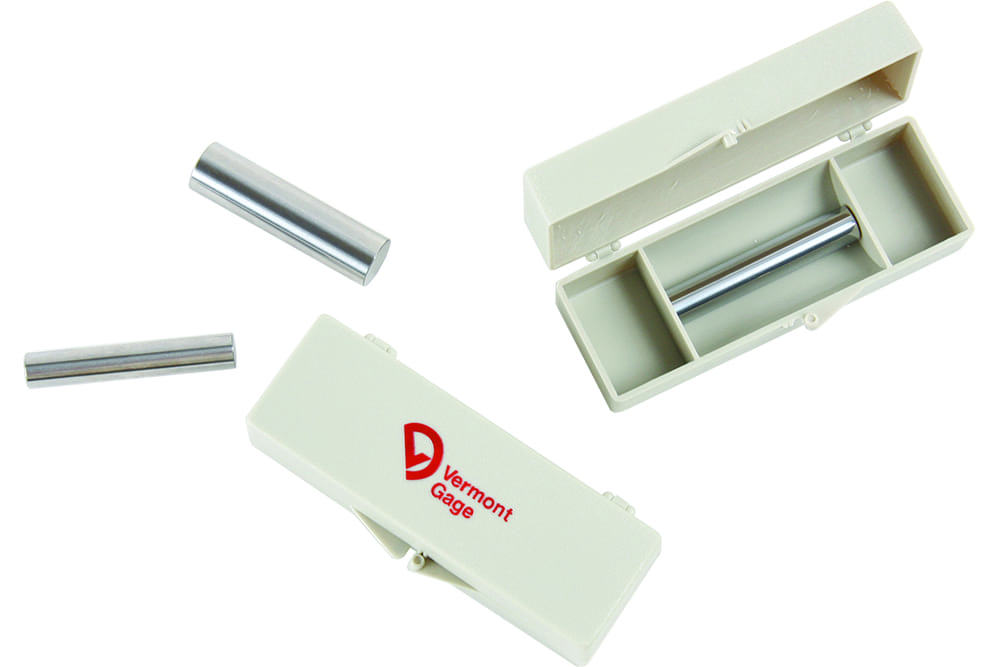 Aerospace Measuring Instrument - Gage Pins
(Source: www.VermontGage.com)
Go/No-Go Gauges- These gauges are used in order to test tolerances of drilled, bored or reamed holes. A set dimension will be used as the "Go" portion meaning that the part either goes through the section or fits with it by using the upper tolerance while the "No-Go" portion is used by defining the tolerances lower limits so that the part should not go through it. Forms of these gauges include pin gauges which consists of a board filled with many different holes which are only a few millimeters apart in which the part is placed inside of the holes until it falls between the upper and lower tolerances. Snap gauges consist of four prongs where the first set is set to the upper tolerance and the second set is set to the lower tolerance.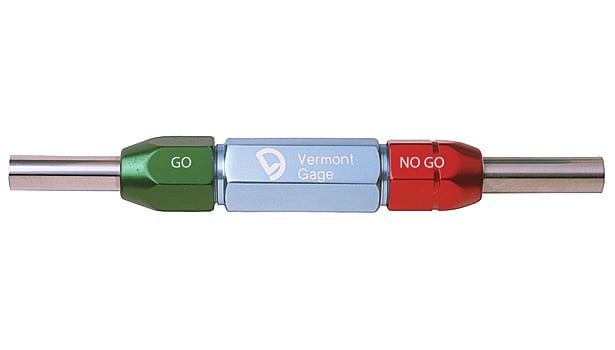 Aerospace Measuring Instrument - Go NoGo Gage
(Source: www.VermontGage.com)
Grind Gauge- Grind gages are used in order to measure the fineness or coarseness of a grind, the tool is usually a flat plate of metal with grind depths that gradually increase as you go further across the part and the ground surface of the part is placed on this scale until it correlates with a section of the tool.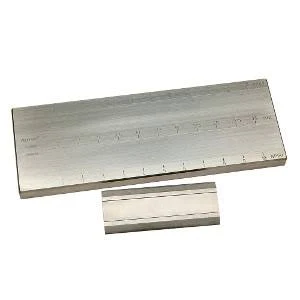 Aerospace Measuring Instrument - Fineness of Grind Gauge
(Source: www.ElcoMeterUSA.com)
Profile Gauge- Profile Gauges are tools that consist of many thin metal prongs. The part being measured is then pressed against the prongs which cause them to move and leave a profile of the part on the profile gauge which can then be traced and further measured.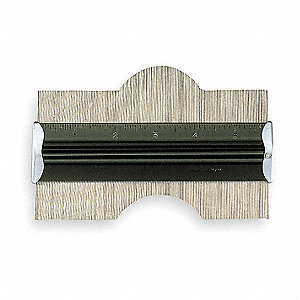 Aerospace Measuring Instrument - Profile Gauge
(Source: www.grainger.com)
Radius Gauge- Radius gages are a series of small metal plates which have progressively increasing radiuses taken out of them. These are often used to measure fillets on parts and are used by placing the fillet of the part against the gauge until they match.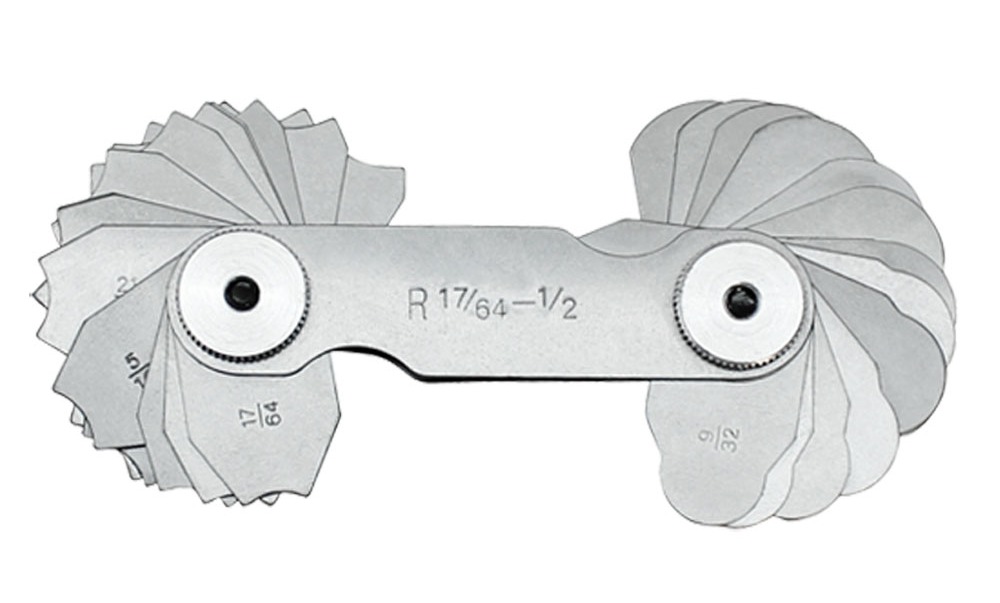 Aerospace Measuring Instrument - Radius Gauge
(Source: www.ProLineMax.com)
Ring Gauge- Ring gauges are tools in the shape of a ring which are slid over cylindrical parts in order to read an accurate diameter of the part.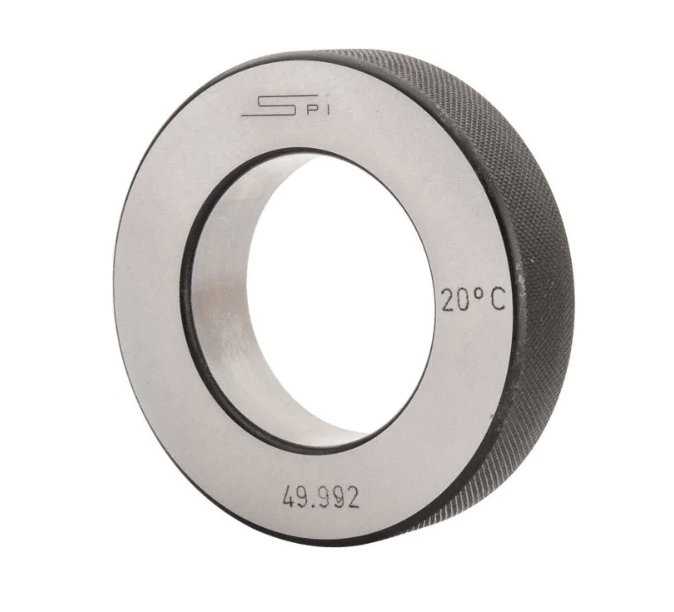 Aerospace Measuring Instrument - Ring Gauge
(Source: www.MSCDirect.com)
Thread Pitch Gauge- Thread pitch gauges are a series of metal plates which have a series of metal teeth along one side. These metal teeth are placed between the threads of screws and bolts in order to quickly determine the pitch of the threads and categorize the part without needing to manually count the threads and calculate its pitch.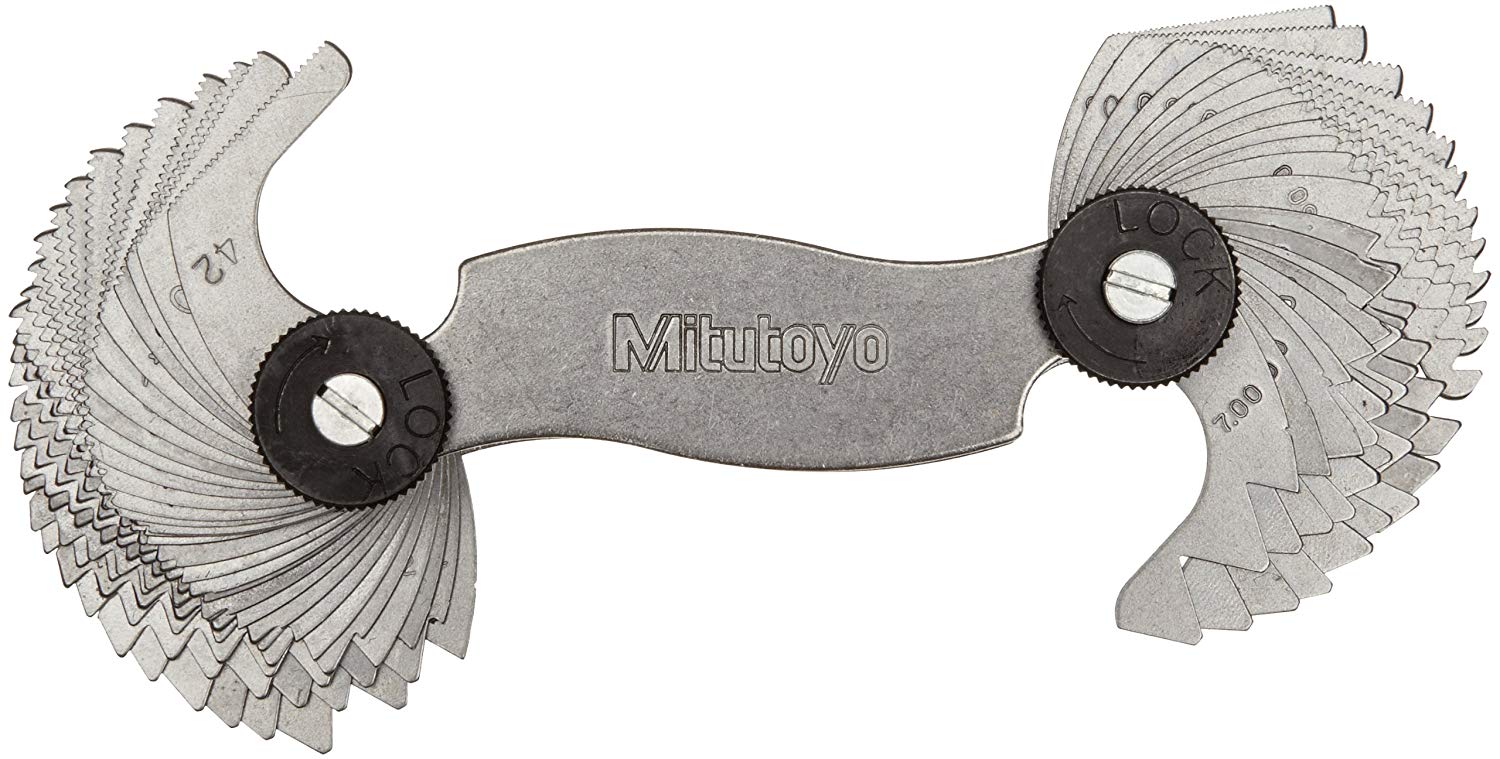 Aerospace Measuring Instrument - Thread Pitch Gauge
(Source: www.Amazon.com)
Engineering high-quality aerospace parts requires investing in the right tooling and this includes aerospace measuring instruments.